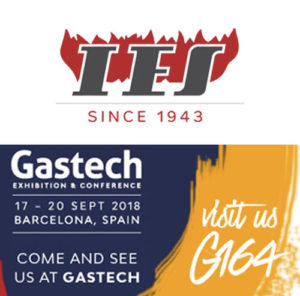 IES will be exhibiting at Gastech, that will take place in Barcelona September 17th to 9th.
IES participates in the exhibition to show the range of heating elements and electrical heating engineering solutions for applications in thermosolar plants, combined cycle power plants, biomass, oil & gas (refineries and petro chemical plants), chemical, pharmacy, nuclear, water treatment (ICAM, ETAP, ETAR). HVAC in naval sector, trains and industrial, between other industrial sectors.
We also have a wide range of ATEX certified electrical heaters
IES is an electrical tubular heaters manufacturer, focus on the design, manufacturing, installation and commissioning of large industrial electrical heating systems, with more than 75 year of experience and high quality recognition around the world.
We hope to have the opportunity to see you in our both G164
Registration  and free badge please visit!