State violence denounce
State violence denounce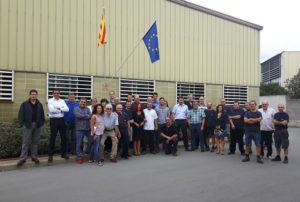 Tot l'equip de IES, ens unim a la convocatori de la "Taula de la Democràcia", per expressar la nostra condemna a la violència exercida per part dels cossos i forces de seguretat de l'Estat per impedir l'exercici dels drets inviolables del poble de Catalunya.
The IES team, joins the call of the "Table of Democracy", to express our condemnation of the violence exerted by the State police forces to prevent the exercise of the people of Catalonia inviolable rights.
Todo el equipo de IES, nos unimos a la convocatoria de la "Taula de la Democràcia" para expresar nuestra condena a la violencia ejercida por parte de los cuerpos y fuerzas de seguridad del estado, para impedir el ejercicio de los derechos inviolables del pueblo de Cataluña.