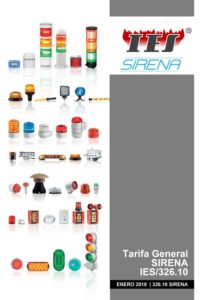 We introduce the new pricelist of Sirena, that covers the whole range of visual and acoustic signalling equipment including modular devices, light towers, evacuation products and signalling for industrial vehicles.
This new pricelist with ref. IES / 326.10 is valid from January 1st, 2018.
Coming alongside with the pricelist, we have the brand new General Catalogue of Sirena, that groups different families: Electra (visual and acoustic devices), Mline (modular acoustic and luminous devices), Automax (light towers), Four (traffic signalling), Workplus (signalling for industrial vehicles), Expro (Explosion-proof devices), Escape (Evacuation for large areas) and Icaro (aircraft warning lights). It also includes some new products and above all, eliminates obsolete versions, colours and tensions that might create confusion.
You can find both documents in the download area.